About Peter
Peter A. Alexander

Born: Montreal, Quebec, 31st October, 1942

Education:

* McGill University; B.A. 1965
* McArthur College of Education
* Teachers certificate: 1968

Work: English teacher; South Grenville District High School 1969-1999
Peter Alexander began constructing Kentucky rifles in 1972, and was instructed by Cliff Jackson in Nedrow, New York. He joined the Kentucky Rifle Association in 1978. In 1981, he worked with George Shumway to publish books on American long rifles. In 1982 Peter joined the staff of Muzzleloader Magazine to author a series of "how-to" articles which eventually became published in 2000 as a book entitled The Gunsmith of Grenville County. Peter was initiated into Freemasonry in 2001. His first Masonic Kentucky Rifle was built in 2003 for Peter's home Lodge, Rising Sun Lodge No. 85 in Athens, Ontario and the second in 2005. Peter crafted a third Masonic ri e in 2009 and a fourth in 2011 for the Pleasant Valley Masonic Center. Mr. Alexander continues to craft new rifles each year.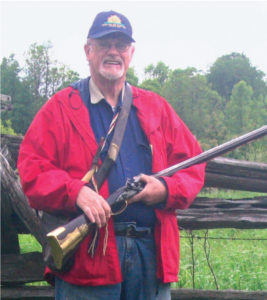 Current work, and details on previous projects can be found at Peter's blog.
Publications

The Gunsmith of Grenville County

What started in 1983 as a column in Muzzleloader magazine has now become the most extensive how-to book on building longrifles ever published. Peter Alexander takes you through every step of building your own longrifle, from shop set-up and tools to engraving, carving and finishing. This is, at 394 pages, the most complete book ever published on how to create your own, historically accurate, 18th and early-19th century American longrifle. The aim was to produce a book that would be clear enough to give a beginner confidence, while communicating advanced techniques to a more experienced maker.

Recreating the American Longrifle

Originally published in 1966 by William Buchele, this was one of the first books to focus on building the American longrifle. This edition is a reprint of the fifth edition, which contains additional text, drawings and photographs by George Shumway and Peter A. Alexander. A classic text that takes the reader through the steps of building a longrifle. Includes full-scale drawings by Buchele of a rifle and pistol and includes details and dimensions of Golden Age firearms.

Building the American Longrifle (5-tape VHS set)

This 5-tape set walks viewers step-by-step through the gunmaking process. Follow along with Peter as he shows every step of the way, and explains his techniques. The gun built in this instructional video is an early Jacob Dickert. Video by Brian Allen.

*Out of Print*

Muzzleloader Magazine

Muzzleloader is the best traditional muzzleloading magazine available. Each issue is jam-packed with articles on hunting, shooting, gunsmithing, do-it-yourself projects, living history, American history, book and product reviews, and much more! Peter hosts a column in the Guns and Gunsmithing section.
Previous Projects
**under construction, coming soon**